CLIENT
Julia Anderson - Public Policy Fellow at the Harvard Kennedy School and former Statewide Autism Manager for the Commonwealth of Massachusetts' Department of Developmental Services
DATE 
2021
TEAM
Julia Anderson - Product Co-sponsor / Project Manager / Researcher 
Zachary Bucek - Product Designer and Developer
MY ROLE
As Product Designer, I led us through the design thinking process steps of empathizing, defining, ideating, and prototyping. 
PROJECT OVERVIEW
sensorytowny is a social networking + online learning mobile app for people who identify as Neurodiverse or Autistic to build positive relationships and networks with an emphasis on shared interests and highly customized experiences.
APP FRAMEWORK
Figma prototype for iOS. Illustrations adapted from the following plugin sources: Humaans for Figma by Pablo Stanley and Storyset by Freepik.  
DEFINING THE PROBLEM
People on the Autism Spectrum need access to a Neurodiverse social network built around meaningful friendships, romantic partnerships, and professional peers. This was a common theme that came out of Julia's interviews and research:
Neurodiverse individuals sometimes struggle with building lasting relationships which leads to social isolation. Some difficulties may include challenges with social norms related to personal and physical boundaries or verbal communication. 
Although they may have strong relationships with family, caregivers, or social workers, they have less access to relationships such as friendships and romantic partnerships with others that come from outside this small circle.
A common characteristic is having an intensely focused special interest such as mass-transit systems or marine life. 
​​​​​​​
IDEATING THE SOLUTION 
Before Julia's work for the Commonwealth of Massachusetts, she created the Sensory Friendly Sunday program for Autistic youth at the Walker Art Center in Minneapolis. The sensorytowny app is built on the research and community building she did during this time. 
I prototyped an app to facilitate more lasting social bonds within a network that expanded the limits of those traditionally defined for the Neurodiverse and Autistic Community.
Issues of privacy and safety were areas of concern with traditional dating apps. We focused on facilitating different types of social interactions that could emerge organically out of shared interests with clearly defined boundaries. 
I was inspired by LinkedIn's customized social interactions focused on shared professional objectives that also blended in an engaging platform for online learning. 
I also looked at a variety of habit-forming apps. These included those tailored to the Autistic Community like the dating app Hiki, and others like Headspace, intended for a larger audience.  
I mapped out user flows of existing competitor apps and created a matrix of App Store user reviews for apps that either targeted Autistic communities or a broader audience with convergent needs, such as good habit formation. 
We were able to quickly identify strengths and weaknesses in these apps and where we could potentially serve needs that were not being met. 
Hiki is a dating app targeted to people in the ASD community with an interest in romantic partnerships. Headspace is a habit-focused app for people with an interest in meditation.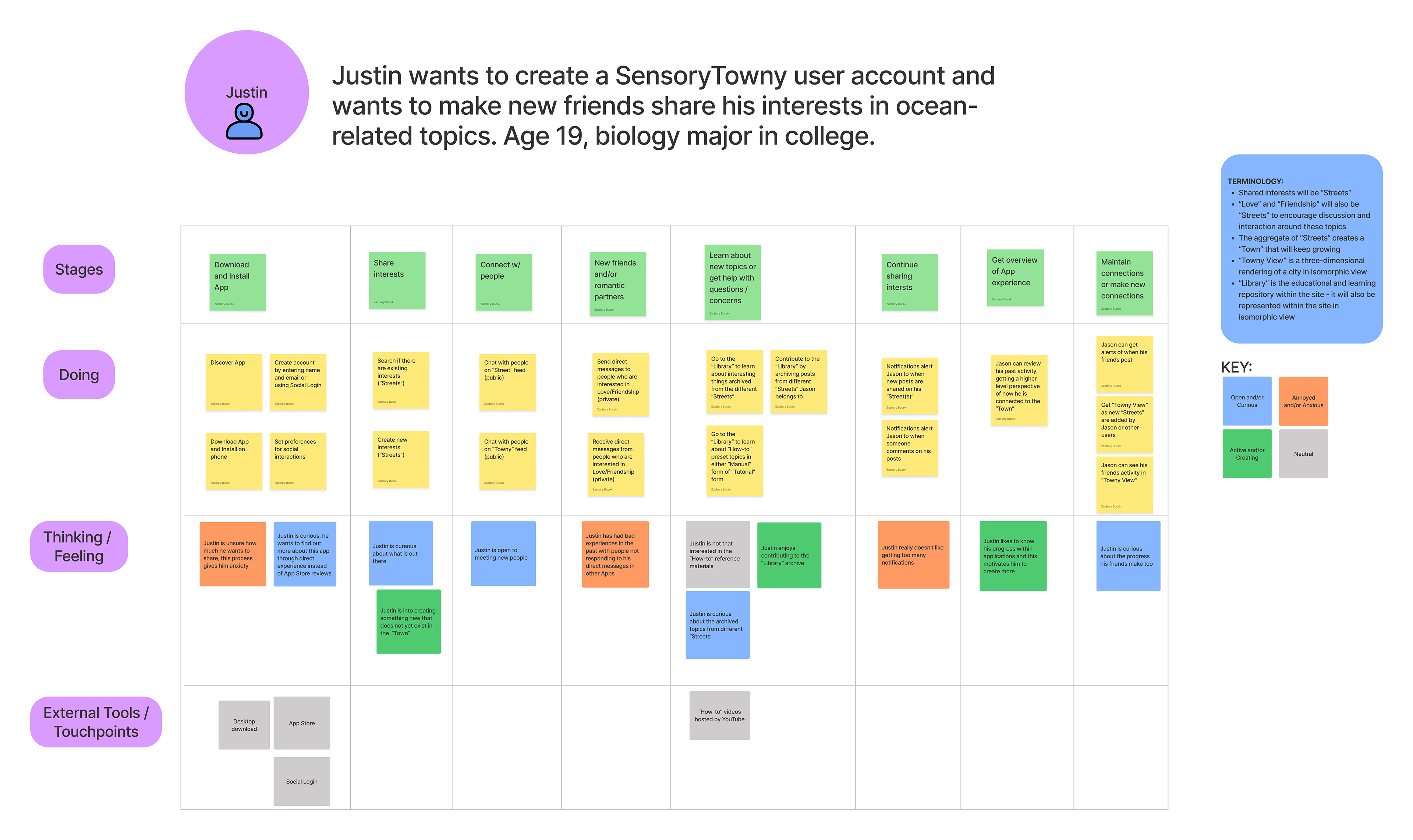 I created User Journey Maps with a focus on identifying motivating moments or pain points along a path that emphasised the Jobs-To-Be-Done Framework.
We generated labels specific to the tasks and goals accomplished within these different journeys. Through an open sort grouping activity, I sketched out the beginnings of a sitemap.
Privacy, pressure-free social interactions, and a focus on sharing special interests are the three tenets of sensorytowny's mission and user experience. I created an information architecture tailored to these specific needs. 
The structure we arrived at allows users to decide, on their terms, how they interact with others. They can be social, forming groups around shared interests. They can be romantic, messaging with potential partners in their geographic area. Or they can stay solo, exploring their own interests and sharing content if they want and when they want. 
Wireframes for screens evolved over multiple rounds with a focus on different user flows throughout the entire app.
The sensorytowny app has four main sections: "Around Town", "Explore Interests", "Learn", and "Message". 
The Twitch app (the gaming video-streaming platform) was a source of inspiration for how we would introduce each of these sections to first time users with overlays.  
Although we wanted the different feeds in each section to be consistent, it was important that they have a feel and functionality specific to the user's tasks. 
As seen below, the overlays for "Learn" and "Message" present a series of walk-thru screens to help the user customize their experience from the beginning. 
Loading and Intro screens: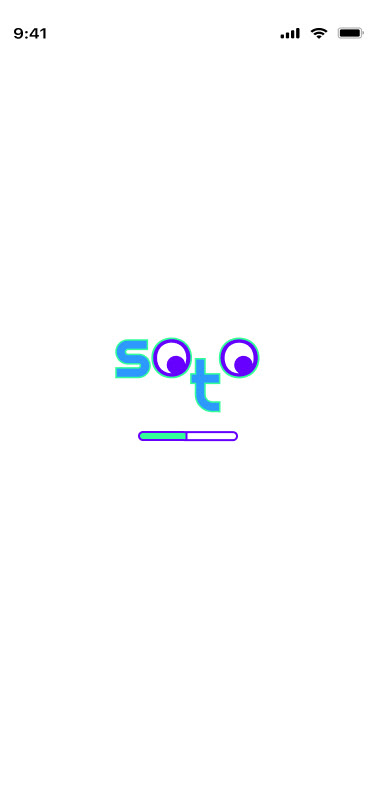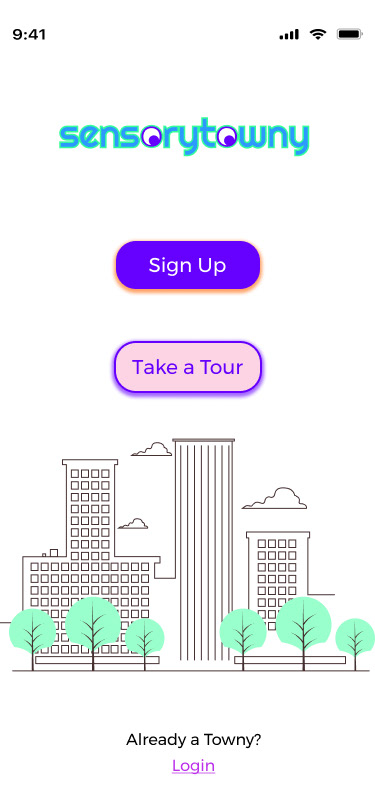 Uploading a photo in profile settings: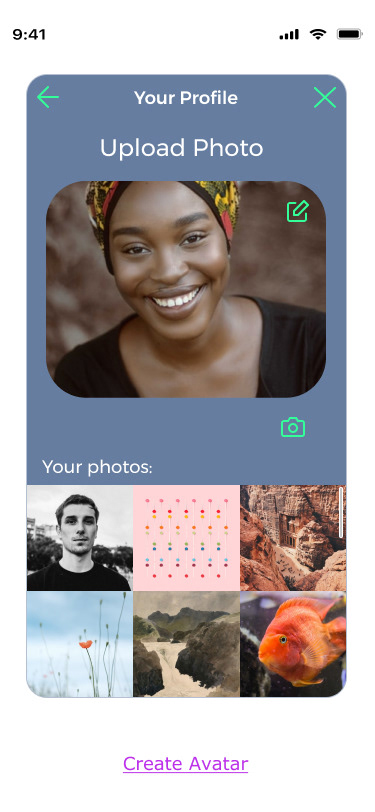 Making changes or additions through profile menu: